Torch Youth Fund
Recently, Columbia Community Care created the Torch Youth Fund in honor of Jaden Ealey, an Oakland Mills High School graduate, who was taken from us too soon on June 11th, 2021. Jaden was a loving son, brother, uncle, teammate, boyfriend, and friend. He was an extremely talented football player at OMHS, as well as a talented rapper locally known as "Torch". Just before his passing, Jaden had written a list of dreams and hopes for himself in the future. It outlined a path forward from a bit of a rocky road, towards success. In order to honor Jaden's life and his dreams for a brighter future, the Torch Youth Fund will provide opportunities for young people through our programming areas of Purpose Pathways and Health & Healing. We will strive to cultivate their strengths, passions, and purposes in life so that they may live healthy, happy, and successful lives. P.U.S.H.
This community safety program is designed by young people, for young people. P.U.S.H will provide resources and create space for the youth of Columbia and communities they live in, attend school and hang out in. The purpose of this program is for the youth to have an outlet and space to grow and gain life skills, and have access to resources that will lead towards attainment of goals and pathways toward success and overall well-being.
S.T.A.N.D. HoCo Mentorship Program
Columbia Community Care will create a support circle to mentor many of the youth in Howard County who are seeking and needing wise counsel and healing. Each meeting will include a Restorative Peace Circle or fellowship time, dinner, and take-aways. 

P.U.S.H Community Safety Program
Youth will lead their peers in providing alternative ways of thinking when in high stress situations to prevent any life altering events from impacting them in non productive ways. Youth will have access to opportunities for mental and emotional development and life skills through discussions and resources for Self-Awareness, Situational Awareness, Social Confidence, Future Focus, Plan B thinking. P.U.S.H will create an atmosphere where youth can explore every opportunity possible. Depending on the needs assessments and listening sessions, potential resources and program will focus around: Resume assistance, Employment Opportunities, Career Speaker Series, Youth speaker series, Community engagement events, Community Recreational Sports, After school assistance, Speakers, Know Your Rights Trainings, Racial Justice Trainings, Stop the Bleed Trainings, and much more as we grow within the community. This type of community violence prevention program, by youth for youth, has never existed in Howard County, but we are confident that we have the right staff and community partners to make this a huge success. Let the youth lead.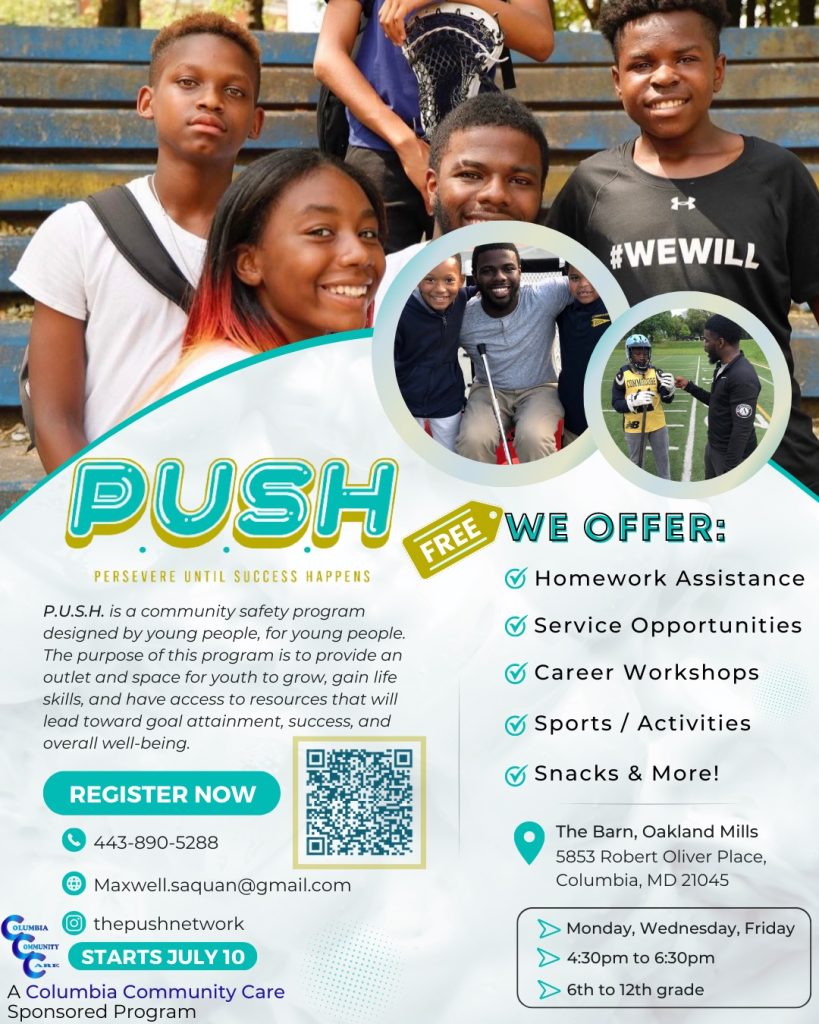 Community Mentorship Circles & Intergenerational Fellowship Program
Our hope is for specifically BIPOC (Black, Indigenous, and People of Color) male elders, community members, and community leaders to be a supportive and guiding presence for BIPOC youth in our community. Intergenerational connection and exchange is essential to knowledge of self, sense of self, self esteem, and self confidence and self-worth. Our model of learning and knowledge sharing is cyclical and interconnected, as opposed to linear or transactional, calling on the concept of Sankofa (a metaphorical symbol used by the Akan people of Ghana, generally depicted as a bird with its head turned backward taking an egg from its back that expresses the importance of reaching back to knowledge gained in the past and bringing it into the present in order to make positive progress) to ensure that our young people and whole community thrive. Every Thursday starting July 27th, the mentors and youth will share space together in Restorative Peace Circles or other fellowship activities. Mentors will engage young people in activities to build relationships, have tough conversations, and express thoughts, experiences, feelings, and emotions. Mentors will spend some Sundays, and possibly additional days depending on feasibility, taking mentees on excursions that promote joy and also life skills, practical skills, and exploration of passions and possibility. Many of the young people of Columbia/Howard County have never left their community or had the opportunity to travel to other states or countries. Our mentors and mentees will have the opportunity to participate in a Torch Youth Fund Retreat. As part of the retreat, they will learn nature survival skills, coping skills, healing mechanisms to deal with trauma, and basic life skills (i.e. tying a tie, interview practice, etc). Mentors and youth will also have time with the intention of joy and relationship building through fishing, boating, exploration of culturally rich neighborhoods, and various culinary experiences.